Caught in Act!!! Deepika Padukone and Ranveer Singh
Deepika Padukone and Ranveer Singh's secret love affair isn't so secret anymore. While neither of them has ever admitted being in a relationship, their frequent outings and sizzling chemistry off the screen has spilled the beans. However, DP and Singh may soon make their relationship official.
Looks Like Deepika Padukone has finally moved in after breaking up with Ranbir Kapoor and Siddharth Mallya. The pretty actress was recently spotted at a Bandra high-end restaurant enjoying a cozy meal with Ranveer Singh. However, they made separate exits to allegedly avoid getting 'caught' together.
The onlookers say that both Ranbir and Deepika were dressed in formal attires and looked quite adorable. However, to avoid attention they made separate exits. While Ranveer left the restaurant through the front door, Deepika made a hurried exit through the back door.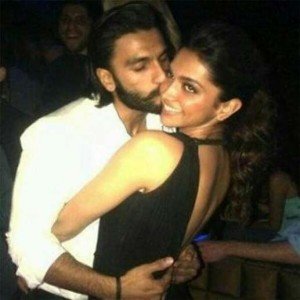 While the rumours about their relationship have been rife for quite some time but the two have been secretive about it. According to sources, both have been taking extra efforts to spend time with each other. They have been undertaking secret trips across towns to see each other.
Interestingly both Ranveer Singh and Deepika Padukone are coming together onscreen for the first time in Sanjay Leela Bhansali's much-talked about film Ram Leela. The film is said to be an adaptation of Shakespeare's epic play Romeo Juliet. Now with both the actors sharing an awesome off-screen chemistry, we hope it shows on screen as well!
A few months earlier, the actor was spotted on the sets of Chennai Express when Deepika Padukone shot for the promotional track Lungi Dance. It was the last day of the shoot, and Ranveer Singh too celebrated it along with the cast, crew, and of course, Deepika.
Earlier, Ranveer had visited Deepika in Wai when she was shooting for a few scenes of the movie. The actor's spokesperson also admits that he visited Chennai Express sets twice, and says that he was invited.