BHAI Movie review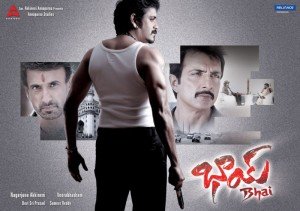 Cast: Nagarjuna, Richa Gangopadhyaya
Director: Veerabhadhram
Music: Devi Sri Prasad
Nagarjuna himself produced this film under his own production house Annapurna Studios along with Reliance Entertainments. Devi Sri Prasad has scored the music for this film. Sameer Reddy has handled the cinematography.
Story:
Nagarjuna (Vijay) eloped from home in his childhood and became a Don named as "Bhai". An undercover cop started killing his gang in Hyderabad. Nagarjuna came to Hyderabad to kill that police. Nagarjuna is busy in executing his plans to kill that Police then he accidentally met Richa Gangopadhayaya (Radhika). She falls in love with Nagarjuna . At this time Nagarjuna came to know a fact about the cop who killed his gang. From that point he starts saving the cop and his family from Mafia. What is the fact that Nagarjuna came to know? Why he is saving the cops family? All this will form the rest of the story….
Positive Aspects:
Nagarjuna look handsome in the "Bhai" getup. His performance in the movie is ok. Richa Ganopadhayaya permits to glamour role and songs; there is no chance for her to prove herself in the movie. Ashish Vidyardhi, Nagineedu are ok in the movie.  Kannada star Prasanna (Heroine Sneha's Husband) suits for the police office role. Life is Beautiful fame Zara Shah is ok. Brahmanandam comedy track will make the audience to enjoy.
Negative Aspects:
Many questions will rise after watching the "Bhai" movie.  What makes Nagarjuna to accept this movie? Many story lines are come in Tollywood with this same kind of genre in past. Screenplay is worst in the movie; Audience can easily judge what will happen next in the movie.
Director veerabhadram complete failed in using the artist like sonu sood.  M.s Narayana comedy track is not up to mark.  Director only know why he used "Ruler song" as backdrop song for most of time in M.S. Narayana episode. Kamna Jethmalani is completely useless character in the movie.Songs picturization and placement is not good. Item song by Hamsa Nanidi is not all impressive.
Technical Aspects:
Director completely failed in all aspects.  Music by Devi Sri Prasad is not impressive except "Bhai" song.  Cinematographer by Sameer Reddy is ok. He succeeds in showing Nagarjuna in handsome looks. Some Punch dialogues are good in the movie. Editing is ok.
Verdict:
This could be other debacle movie in Nagarjuna's career.  Even his fans couldn't satisfy with this movie. The teaser is much better than the complete movie.