Washington, April 8 American company Axiom Space has launched the world's first private mission to the International Space Station (ISS) on Friday.
The 4-member crew lifted off on SpaceX's Crew Dragon spacecraft atop a Falcon 9 rocket at 11.17 a.m. EDT (8.47 pm IST) from Launch Complex 39A at NASA's Kennedy Space Center in Florida, the company said.
The Ax-1 crew members includes Commander Michael Lopez-Alegria of Spain and the US, Pilot Larry Connor of the US, and Mission Specialists Eytan Stibbe of Israel, and Mark Pathy of Canada.
"This is a very special moment for us. The launch of Ax-1 is a beginning of many beginnings. Ax-1's launch to ISS is part of our journey to build a first private commercial space station," Kamal Ghaffarian, Executive Chairman, Axiom Space during the launch.
"We will usher in a new era in private human spaceflight when they cross the threshold to enter the ISS," added Michael Suffredini, President and CEO of Axiom Space.
He thanked SpaceX, the astronauts and Axiom team for "long hours of training, planning, and dedication".
Suffredini also thanked NASA for its "vision to develop a sustainable presence in low-Earth orbit".
"This takes commerce to a whole new level. Axiom_Space's #Ax1 mission is on its way to the Space Station in SpaceX's Dragon Endeavoura"a key step in our ongoing work to open opportunities for space travellers in low-Earth orbit," NASA said in a tweet.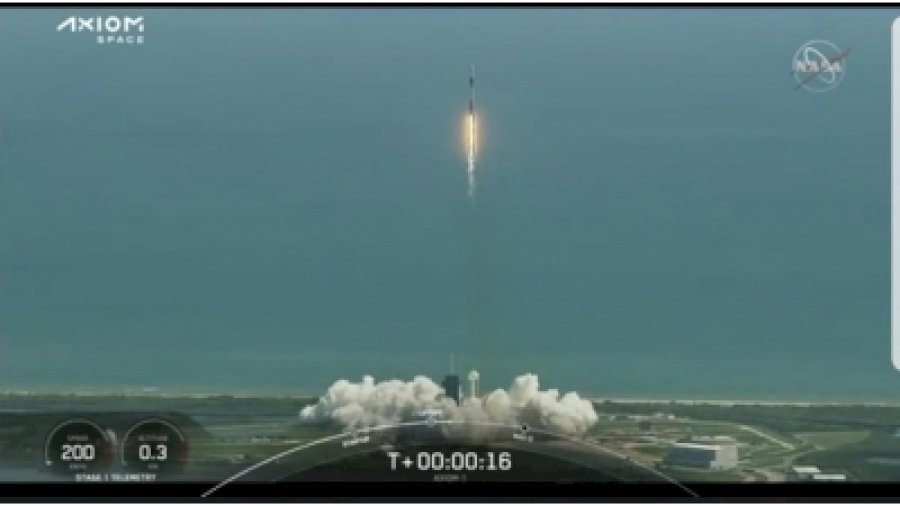 During their 10-day mission, the crew will spend eight days on the ISS conducting scientific research, outreach, and commercial activities. The crew has shared that they are bringing over 25 different scientific experiments to work on during their eight-day station stay.
NASA and ESA (European Space Agency) astronauts and Roscosmos cosmonauts already aboard the space station will welcome the Ax-1 crew after docking.
Founded in 2016, Axiom has the ultimate goal of building private space stations Axiom Station, in low-Earth orbit that can serve as a global academic and commercial hub.
"What a historic launch! Thank you to the dedicated teams at NASA who have worked tirelessly to make this mission a reality," said Administrator Bill Nelson.
"NASA's partnership with industry through the commercial cargo and crew programs has led our nation to this new era in human spaceflight a" one with limitless potential. Congratulations to Axiom, SpaceX, and the Axiom-1 crew for making this first private mission to the International Space Station a reality," he added.