Anirudh and Andrea | Back Together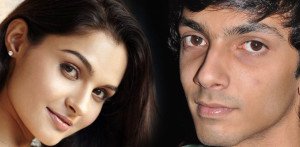 Anirudh and Andrea's liplock pictures leak was one controversy, which would fall into the second category easily. With Anirudh being six years younger than actress Andreah Jeremiah, their relationship was very surprising and shocking to both media and Tamil cinema fans. However, the music composer and the pretty actress denied that they were not in relationship still, although they agreed that they were seeing each other some time back. After the picture leak controversy, they were not in good terms with each other.
More fuel was added to the fuel, when actress Andrea admitted that both she and Anirudh were on a relationship and it was natural to behave that way when someone is in a relationship. However, the Vishwaroopam actress suggested that the relationship is no longer in existence now as they broke up after some time. Referring to the pictures leaked on the Internet, the actress told the media that they were old pictures and that she and Anirudh are not in a relationship anymore. While Andreah's comment marked the end of a shocking and sensational story in Kollywood sometimes ago, now Anirudh has offered apologies to Andrea!
The story seems to have had a twist, thanks to actor Simbu. The Manmadhan actor has brought together Andreah Jeremiah and Anirudh Ravichander again to croon for a number in his upcoming movie. Yes! We all know that Simbu is starring in a new movie called Vaalu, which is being directed by debutant director Vijay Chander. The shooting is going on at a brisk pace and side by side the composition works are also going on. Music composer S Thaman is composing the music for this film.
The buzz is that it seems as if music director Thaman and the lead actor Simbu wanted Anirudh and Andreah to croon for a song during composition. However, it was tough for the filmmakers to get both of them on board together, since they were not in good terms with each other, especially after the picture leak controversy. Hence, actor Simbu got himself in and asked both of them personally to lend their voice for the song. Since Simbu is a good friend for both, they agreed and sang together during the composition. The song seems to be starting with 'Hey Vaassamoakka' and one should wait and see how good this song turns out to be.