This Open Letter was shared by Alumni's Symbiosis School of Media and Communication supporting Dr VIKRAM SAMPATH.
Through this open letter they share their experience of studying in this institute and reason why they are supporting Dr Vikram Sampath.
 Source
An Open Letter For The Man Who Has Been Wronged
We are alumni of the Symbiosis School of Media and Communication and belong to the batches of 2014 – 16 and 2013 – 15, both of which have been privileged to have interacted with Dr. Vickramm Sampath. Batch of 2014 -16 also speaks from the experience of having been under his immediate directorship. We are extremely saddened and demotivated by the fact that his very hard work, his constant availability and willingness to listen to his wards, his legacy has been tarnished by politics. Here is a direct account from students who had to tolerate the previous administration and those who had a chance to also be part of his directorship.
Under the previous administration:
Marksheets, certificates and payslips were often lost by administration and students were held liable for the same.
Joining the Art of Living was made mandatory; sessions were held often at the expense of classes.
Students were asked to do photography for family pujas, daughter's engagement etc. for the Director.
Students were asked to dance in public events irrelevant to the course structure as part of Live Projects. Non-participating students were forced to attend these events at the risk of rustication.
There was no hostel allotment for boys and no complain or feedback process for either hostel or college issues such as insects in food. On misplacement of documents, or reimbursement issues, students were made to run pillar to post. Each signature awaiting the Director's authorship required days of waiting.
The Bangalore International Film Festival (BIFF) was a Live Project where students were molested. When the matter was reported, no serious action was taken; in fact, a faculty member regarded it and reported it as a personal vendetta against himself.
Regarding Faculty:
People who had previously worked in HR taught media at SSMC. Former journalists taught media buying although they had never been part of corporates that did buy media. 
Faculty had, on occasion, asked particular students to grade their peers' work
Regarding Placements:
No placement support; students were made to settle for low packages in unknown organisations.
Immediately upon becoming Director of SSMC, Professor Sampath organised several meetings with his students. The course was restructured according to global syllabus structures, and very eminent personalities from the world of media and communication were called in for advice and interaction. The average salary package went up by over a lakh in his tenure and the college received media attention due to the large scale media events that now happened there. He organised the first ever alumni meet for the institute and arranged for the first ever international student exchange programme in SSMC.
He has been the only source of change in an environment that wasn't conducive for any respectable post graduate student by constantly making efforts to bridge the gap between in the industry and academia through innovative learning processes and live projects (Praxis, GMIC, WTC etc.)
He worked for 18 hours many days, and was readily accessible to students and faculty. In his tenure Nirmala Seetharaman, Barkha Dutt, Anupam Kher, Shashi Tharoor, Shekhar Gupta and Kiran Majumdar Shaw have also come to address students.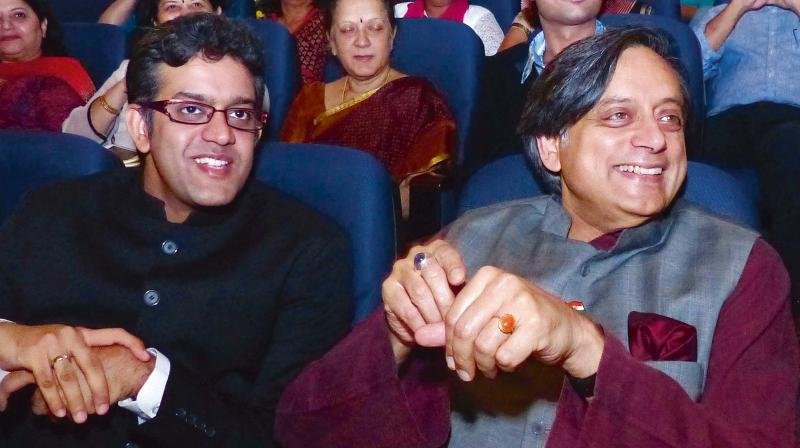 Source
It was a terrible disillusionment to the batches that had had the honour and pleasure of his guidance to see lies bandied about by a management that had never shown interest in SSMC. They seek now to malign someone who had actually shown great care in nurturing the institute out of ignominy.
This is an open letter for the man who has been an inspiration, an ideal to aspire to in terms of ethics and hard work. Teachers and mentors leave permanent imprints, bad and good. Yours is indelible and a privilege to bear. WE WILL STAND BY YOU.  #IStandBySampath
Batches of 2013-15 & 2014-16
SSMC – Bengaluru
Ref: https://www.facebook.com/vikram.sampath.7/posts/10154831589609434?pnref=story