Amitabh and Leonardo Dicaprio | DiCaprio – A huge fan of Amitabh Bachchan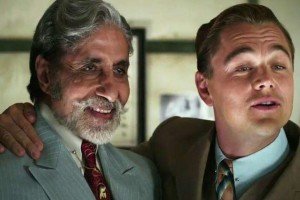 There are millions of fans for DiCaprio all over the world.
Hollywood heartthrob, Leonardo DiCaprio himself is a huge fan of our very own Bollywood superstar, Amitabh Bachchan. Having worked with Big B in Buz Luhrmann's 'The Great Gatsby', Leonardo has shown keen interest in wanting to work with this mega star once again. Bachchan had essayed the role of Meyer Wolfsheim, a gambler friend of, Jay Gatsby, role enacted by Leonardo DiCaprio. The movie was an adapted version of the famous novel, of the same name, by author F Scott Fitzgerald.
During the shooting of the above movie, Leonardo and Big B had managed to form a close bond and a mutual respect for their individual respective work. Leo found Mr Bachchan to be, not only a superb actor, but also a fine human being and a through gentleman. Their bond grew stronger as Amitabh and Leonardo once again interacted with each other, as they inaugurated the Cannes Film Festival, as their movie, 'The Great Gatsby' was the opening movie of the festival.
Talented actor Leonardo DiCaprio has been awarded the Golden Globe, for the best actor category, for his role in, 'The Wolf of the Wall Street' his latest released movie. Hope that the viewers get to see the talented duo, Big B and Leo, once again for some future project.