Aamir Khan to go naked in his next movie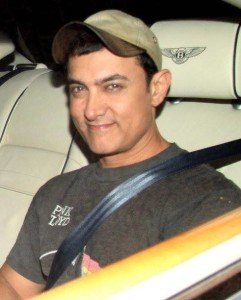 Aamir Khan has always experimented with his roles. From, different clothes to different hairstyles, but this time the actor is all set to go completely naked in Rajkumar Hirani's 'Peekay'.
B-Town actors like John Abraham, Neil Nitin Mukesh and recently Rajkummar Rao have gone nude onscreen. But, Aamir is the first actor from his league to go bare body. Sources from the film's team declare that even they were shocked when the actor decided to do the "unthinkable".
An insider reveals, "In the film, Aamir is playing the role of an alien who lands on Earth by choice. The bare portion is a part of his introduction scene."
Well now we come to know that why Aamir is seen in weird clothes in the stills of the movie, as he is the 'alien', who doesn't know what to wear and blindly imitates people.
Insiders also reveal that, the nude scene was part of the original script and Hirani was keen to keep it in the movie.
A source said, "The only debate was whether Aamir would do it himself or want to use a body double."
"After a lot of deliberation, Aamir decided to do it himself so that it would look authentic. And he was not nervous about doing it at all. When the scene was shot, a minimal unit was present on the set, all cameras and phones were kept out and everyone was taken into confidence," the source added.
Aamir, you have once again proved that you are the only Mr. Perfectionist of Bollywood.