Aaha Kalyanam Movie Review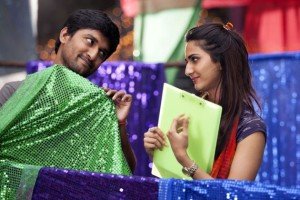 Aaha Kalyanam is one of the latest movies to hit Tamil cinema theaters. The movie is the Tamil edition of the Hindi movie called Band Baja Baaraat. The movie was produced by well known production house Yash Raj Films in Hindi. The same production house has made its entry into Tamil cinema industry with Aaha Kalyanam, where producer – director Adithya Chopra has produced the movie. Actors Nani and Vaani Kapoor replicate the lead roles in Tamil edition, which were played by actors Ranveer Singh and Anushka Sharma in the original.
Shakthivel (Nani) is a care free youth and he wants to escape from his father's business of agriculture. Hence, he chooses to be a wedding planner. On the other hand, Shruthi Subramaniam (Vaani Kapoor) is very passionate about wedding planning and takes up the profession with so much ambition. Both Shakthivel and Shruthi team up and start their wedding planner business. Initially, they lay a set of rules to followed in their profession. Later, Shruthi takes a turn later, while Shakthivel wants to play by rules. What happens after this conflict and what are the consequences? Aaha Kalyanam has the answers.
Debutant director A Gokul Krishna, who earlier worked as an assistant for director Vishnuvardhan, has directed Aaha Kalyanam. The director has understood the theme of the movie, marriage, and has structured the screenplay and all other elements accordingly. The characters are lively and full of energy and the songs and sequences all have the flavour of marriage.
Nani and Vaani Kapoor have done their part very well and they carry the movie on their shoulders. The only disappointing element is that, from the standpoint of remake, Aaha Kalyanam has a high tinge of North, which may not go easily well with the audiences down the south.