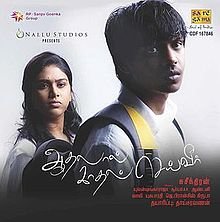 Director Suseenthiran is known to explore the finer details of the society that most people want to shy away from or conveniently forget. And the wise man has kept his promise of good film and a worthy watch this time too. And this time he has focused on a growing concern which revolves around the nation's asset – youth, the age problem, commonly termed adolescence and the consequence thereof, often mistaken to be love.
Story:
Set on a simple backdrop of college environment, the hero, heroine and their respective friends are introduced in all simplicity. Despite countless efforts by the simple boy to impress the girl, he fails terribly, until one day when he finally makes a lasting impression. And then they carry memories ever after. Is it their 'happily' ever after is a big question that every dreamy beginning fails to answer.
It is a true blessing to have parents who are understanding and friends who are cautious and sensible. What happens when you flout all of this forms the crux of the story. While in most places it seems surprising that people around are favourable to the lead characters, the scenes where the heroine's father bears the hurt for his daughter's well being are truly moving, and the ones to watch out for. Friends in the movie are lighthearted, quick witted and also sensible and balanced at the same time. Giving the right weightage to each character, no on screen presence is wasted, grossly speaking.
Finer details of the film could have taken care of a little better, though that is not much of a hindrance to the movie experience at large. One major shortfall is the dubbing and dialogue mismatch, but for which, the film is almost flawless. Though most characters are great performers, the hero could have displayed more emotions in places that necessitates it. How a sweet decision can unknowingly transform into a miserable life thereafter, not only for those concerned, but also everyone around, has been rightly aided by Yuvan's fitting musical notes. The story and direction are truly a class apart, forcing the self to dare to think beyond stereotypes. Screening and editing add to the overall plush of movie experience. Narrating a true to life story, the movie has a heart wrenching climax, that does not fail to move anybody. In all, the short and sweet film is a lot of emotions that is worth investing your time in.