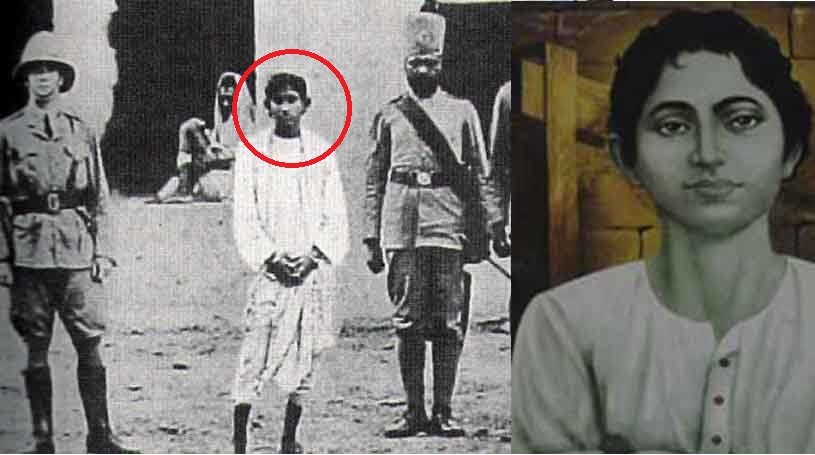 The tale of India's struggle for freedom is a feisty one that we have heard of many times. The freedom movement is synonymous with the freedom fighters who were revolutionary in their approaches towards looking at independence. We all know how Mahatma Gandhi, Bhagat Singh, Rani LaxmiBai, Bal Gangadhar Tilak, Sukhdev, etc, paved the way of independence for us. But there are many unsung heroes and heroines about whom most of us never heard before. Let us take dig into past to take a look at 25 of the unsung and lesser known freedom fighters we probably didn't know about.
1. Kanaiyalal Maneklal Munshi

Source
An active participant in India's freedom movement, he was a legendary figure during the Quit India Movement and was arrested because of it several times, but that did not stop him for fighting back.
2. Matangini Hazra

Source
A champion of the Quit India Movement, this unsung heroine was shot dead by the British when they realised she was too feisty and would be able to sprout more nationalism among fellow Indian. She also played a great role in Non-Cooperation Movement.
3. Veer Vinayak Damodar Savarkar

Source
A pro-independence activist, he was against caste system in Hinduism. This person was responsible for arousing nationalistic feeling among common people through his writings.
4. Peer Ali Khan

Source
One of the founding rebels of India, Peer Ali Khan played a prominent role during the early years of freedom struggle in 1857. He was one 14 people given capital punishment at that time for showing their rebel against the British Rule. But by that time, he already inspired millions to follow his footsteps.
5. Kamaladevi Chattopadhyay

Source
This legendary social reformer played a pivotal role in bringing back indigenous handicrafts, theatres and handlooms in India. She knew how this would help in uplifting the socio-economic standard of the Indian people, which in turn would contribute to the freedom movement. She is also the first woman to run for a Legislative seat in India.
6. Tirupur Kumaran

Source
Founder of the Desa Bandhu Youth Association, Tirupur Kumaran was still holding the Indian flag at the time of his death when he was killed during a protest march against the British colonial government on January 11, 1932.
7. Lakshmi Sahgal

Source
An officer of the Indian National Army, she was a pioneer personality of the Indian Freedom Movement and aided numerous wounded people during her time of service.
8. Garimella Satyanarayana

Source
Who says you always need to be on rallies and combats to show your fight against your oppressors? Garimella Satyanarayana was known for influencing people with his patriotic songs and writings against the British government.
9. Tara Rani Srivastava

Source
An Active member of the Quit India movement, this woman lost her husband while fighting for the country but that didn't stop her from holding the flag still high.
10. Alluri Sita Rama Raju

Source
Leader of the 'Rampa Rebellion' in 1922-1924, this fighter was referred to as the hero of the jungles because of his fight against the British Raj.
11. Bhikaiji Cama

Source
This woman was all for gender equality and was inspired by Suffragette movement. She proudly unfurled the Indian flag at the International Socialist Conference in Stuttgart, Germany in 1907.
12. N.G. Ranga

Source
A follower of Gandhian principles, N.G.Ranga led the ryot agitation in 1933. This freedom fighter is considered as a champion of peasant rights. He was a prominent figure in Indian Peasant Movement.
13. Potti Sreeramulu

Source
This revolutionary figure was known for his humanitarian work on Gandhian principles. His support for the Dalit community and his fight for the people of Andhra Pradesh makes him one of our unsung heroes.
14. Aruna Asaf Ali

Source
This woman became widely prominent by hoisting the Indian National Congress flag during the Quit India Movement at the Gowalia Tank maidan in Bombay.
15. Khudiram Bose

Source
One of the youngest revolutionaries early in the Indian Independence movement. At the time of his hanging, he was 18 years, 8 months 8 days old.
16. Kaneganti Hanumanthu

Source
Known for spearheading the Palnadu Rebellion against tax, this freedom fighter was arrested several times for his work for the country before getting killed at a tender age of 30 by the British. But, nevertheless, his efforts didn't go futile as he led foundations for India's freedom movement.
17. Parbati Giri

Source
Parbati Giri played a pivotal role in both pre and post-independence era and was hailed as the Mother Teresa of Western Orissa by many. She even served jail for two years following her activities against the British government.
18. Velu Nachiar

Source
One of the first queens ever to fight against the British raj, Velu Nachiar was the princess of Ramanathapuram. She opposed the British rule even before the Sepoy mutiny in the 18th century.
19. Sucheta Kriplani

Source
The first woman to become the Chief Minister of an Indian state, Sucheta Kriplani founded the All India Mahilla Congress. She was a follower of Gandhian principles and worked with Gandhi during the partition riots.
20. Ke Mammen

Source
Another unsung hero of the Indian freedom movement, Ke Mammen was a pacifist and a Gandhian follower, when it came to fighting for the country.
21. Durga Bai Deshmukh

Source
This feisty woman led many Satyagraha movements and was a member of the Constituent Assembly of India and the Planning Commission of India. She played a prominent role in Indian freedom movement. She was placed in charge of the Khadi exhibition in 1923 when Indian National Congress held a meeting in her hometown of Rajahmundry, where she even forbade Jawaharlal Nehru from entering because he didn't have a ticket.
22. Senapati Bapat

Source
Leader of the Mulshi Satyagraha, he hoisted the Indian flag over Pune for the first time after independence. He was jailed for vandalism and public speaking.
23. Abadi Bano Begum

Source
One of the very less number of Muslim women freedom fighter, Abadi Bano Begum addressed a political gathering behind purdah and was one of the first person to do it.
24. Birsa Munda

Source
One of the most prominent tribal representative among the freedom fighters, this revolutionary figure died at the age of 25, but before that led the Millenarian movement and inspired others to fight for the country.
25. Begum Hazrat Mahal

Source
She was one of the most pivotal rebellion characters during the 1857 Indian rebellion. She was the Begum of Awadh and her fight against the British East India Company was a remarkable one.