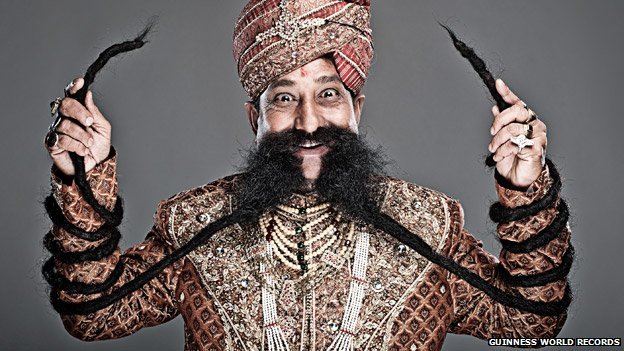 India is a land where people are born with excellence. India has a population of around 1.252 billion and every Indian has qualities which are totally amazing.
Listed below are the best picks of the Indians who have set world records and some of them made us proud.
1.  One-year-old Indian boy breaks world record after being born with THIRTY FOUR fingers and toes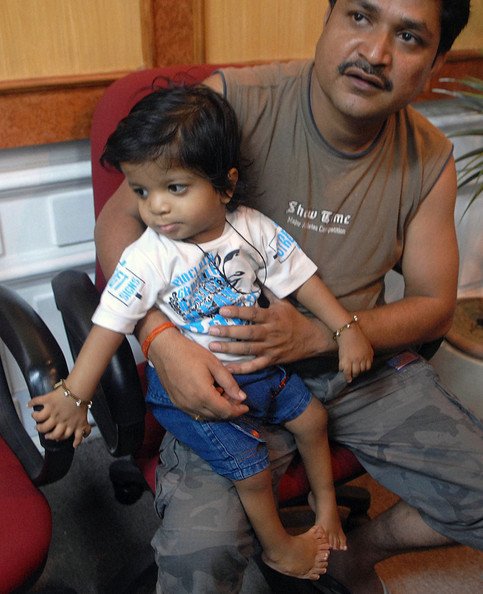 Akshat Saxena has seven fingers on each hand and ten toes on each foot and made it to Guinness World Records in 2011.
2. Sufyan Shaikh – Youngest Swimmer in India set Limca Book of Record in 2007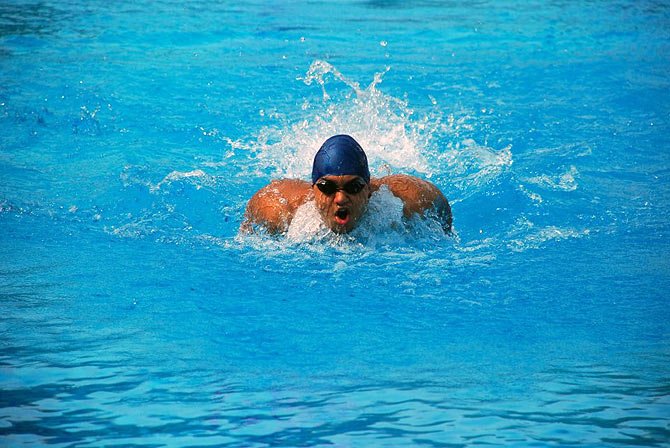 Sufyan Shaikh, the master swimmer from Ahmedabad, Gujarat, India, became the first person to complete swimming in nine seas – Arabian Sea, Persian Gulf, North Sea, Pacific Ocean, Atlantic Ocean, Gulf of Mexico, Adriatic Sea, Mediterranean Sea and India Ocean – within a period of 3 years 6 months  and 6 days  from March 10, 2004 to Oct 28 2007.
3.  Indian Chef Damu – World's Longest Cooking Marathon – Guinness World Record 2011
After cooking up as many as 617 dishes in over 24 hours, an overjoyed Chef K. Damodaran made a new Guinness World Record.
4.  Smallest Handmade Chess Set – Indian record set by Jaspal Singh Kalsi in 2007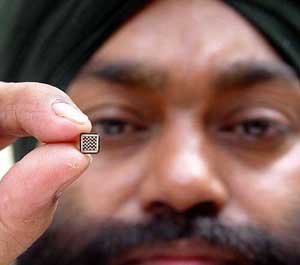 The smallest complete handmade chess set was made by Jaspal Singh Kalsi (India) in Putlighar, Amritsar, India.
The board measures 32 x 32 mm, the largest piece (the King) measures 13 mm in height and the smallest (the pawn) measures 7 mm in height. All the pieces have a base of 3 mm in diameter.
5.  World's shortest woman is Indian student, says Guinness World Records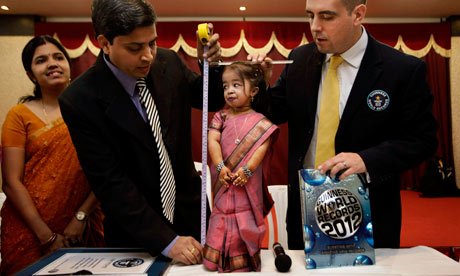 A high-school student in central India has been recognized as the world's shortest woman by Guinness World Records as she turned 18 in 2012.
Jyoti Amge, who is 62.8cm (24.7 inches) tall – shorter than the average two-year-old, said she wants to earn a degree and also would like to make it to Bollywood.
6.  Ram Singh Chauhan  – World's Longest Moustache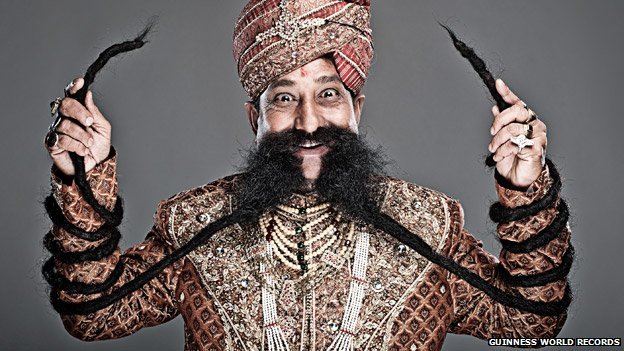 Ram Singh Chauhan, (born on 12th February, 1953), Artist from Jaipur, Rajasthan, set world record in 2013 to grow world's longest moustache measuring 18 Feet (5.04 Meter).
7.  Youngest one to hold a solo painting exhibition when she was just 11 months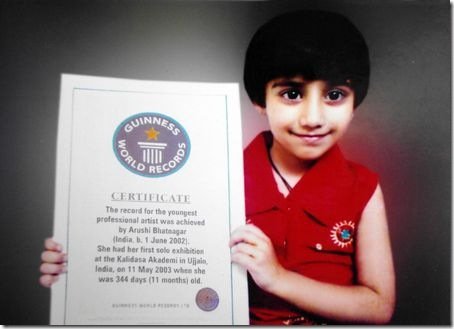 Arushi Bhatnagar class I of St. Mira's primary school,  6 years old, a very bright student in all the subjects displayed her work as part of St Mira's Primary School Annual Art and Craft Exhibition. She has been painting since she was 11 months old. She is now a holder of Guinness Book of World Records as the youngest one to hold a solo painting exhibition when she was just 11 months old, in 2003.
8.  The Indian Rubber Man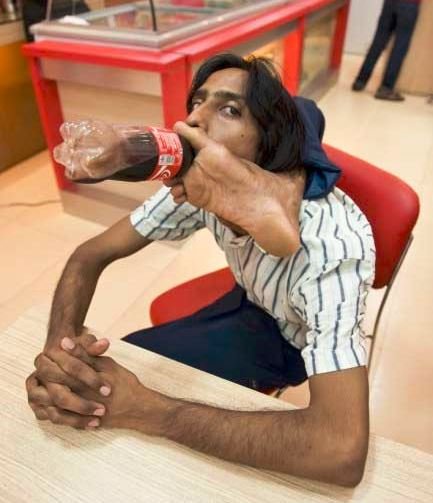 27-year-old Indian Vijay Sharma can wrap his legs over his head, wriggle through a tennis racket and wind his arms around his back.
His flexibility has earned him the title of 'Rubber Man' in the Limca book of Records during 2001.
Sharma has won a silver medal in body flexibility at a country level tournament, held at Vijayawada in Andhra Pradesh in 2001. He also claims to have broken the world record for wrist-egg-crushing – which involves pushing your hand backwards to lie flat against the arm – set by a Lissa Patterson (CORR) in 2005.
9.  Guinness world record for singing 11,000 songs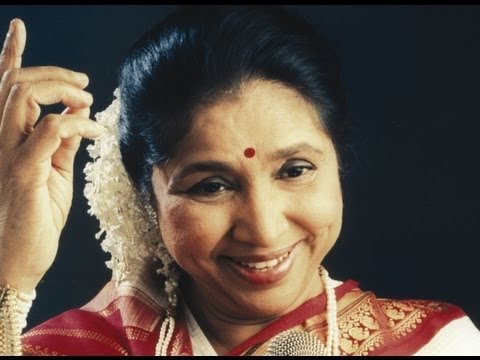 Asha Bhosle created a Guinness world record for singing 11,000 songs till the age of 60.
Speaking at the event, Asha said, "While my contribution to music has been acknowledged by foreigners, I have not got identical support in my own country. The Guinness Book record has made people take special notice of my work.''
She said, "I have cried on stage for the first time in my life. The citation mentioned the struggle I had to go through. Singing four to five songs a day, I managed to sing 11,000 songs. I had to raise my children alone and hence, had little choice about my songs. I sang whatever came my way.'
10.  India breaks Pakistan's Largest Human National Flag record
In 2007, 50,000 proud residents of Chennai succeeded in forming the largest human national flag as they made their way to the Guinness Book of World Records beating the previous record held by Pakistan. People from all walks of life assembled holding placards of different colours – saffron, white and green to form the Indian national flag. One of the participants in the record attempt, Vatrivel, said he felt proud of the attempt. Another participant, Ekta said she felt proud as an Indian after the successful attempt. The record was organized by the Rotary Club International.
11.  Indian Yoga Teacher Sets World Record of 40 hours non stop yoga performance.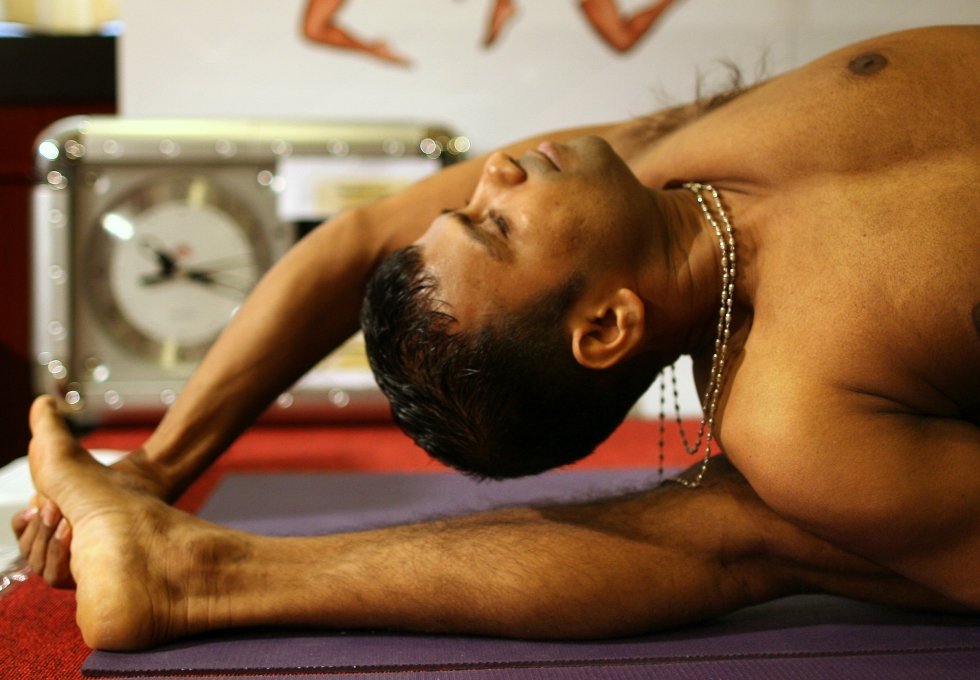 2015 – A 29-year-old Indian yoga teacher in Hong Kong set a Guinness World Record for performing Yoga continuously for 40 hours non-stop, demonstrating more than 1,500 'asanas'.
Yogaraj CP broke the record for the 'Longest Yoga Marathon (Male)' by performing continuously for three days starting on Friday and ending today afternoon.
The yoga instructor did multiple twists and turns at his Tsim Sha Tsui studio, Prana Yogam, which was open to public for the duration of the challenge.
12.  Lowest Limbo Skater: Rohan Kokane  – Skated 10 m at height of 25 cm (9.84 in)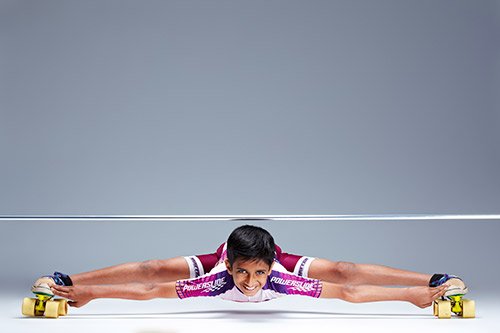 One of the youngest new record-breakers to make it into the new Guinness World Records' book is 12-year-old Rohan Kokane from Belgaum in Karnataka, India. The year-7 student at St Xavier's High School is recognized for being the Lowest Limbo Skater, achieving a roller-skating height of just 25 cm over a distance of 10 m.
13.  The longest journey by motorcycle in a single country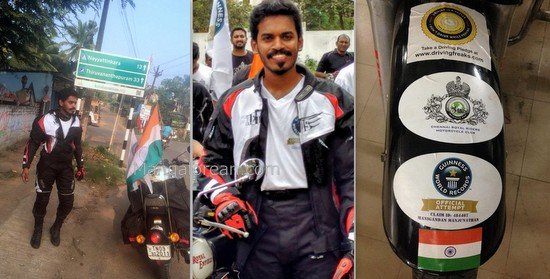 The longest journey by motorcycle in a single country is 38,239 km (23761 miles) and was achieved by Manigandan Manjunathan (India), who rode throughout India from 9 November 2014 to 15 February 2015.
Manigandan rode through India on a Royal Enfield Classic 500.
14.  2,100 performers dance their way into Guinness Book pages – Largest Bharathanatyam
The Largest Bharathanatyam dance involved 2100 participants and was achieved by Tapasyasiddhi Kala Academy (India) at Shahu Stadium, Kolhapur (India) on 10 January 2015.
The participants involved 2100 females from around the Kolhapur area.
(Please Note: This is an Odishi dance, however according to Guinness World of Records this record is considered as the Largest Bharathnatyam)
15.  56 people on one motorcycle – Record set by our Indian Army Corps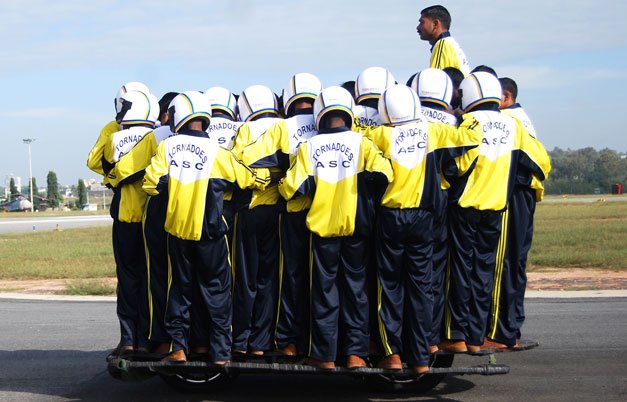 The most people on one moving motorcycle are 56 and was achieved by the Indian Army Corps of Signals 'Daredevils' Display Team (all India) at Dumna Airport, Jabalpur, India, on 28 December 2013.
The men rode a single 500 cc Royal Enfield Bullet motorcycle a distance of 1,100 metres. The motorcycle was modified, as permitted, with a platform around the edge to carry all the people, and no one touched the ground during the attempt, meaning no one was disqualified.
16.  Fastest time to husk a coconut with teeth
The fastest time to husk a coconut using the teeth is 28.06 seconds and was achieved by Sidaraju S Raju (India) who husked a coconut measuring 78 cm (30.7 in) in circumference and weighing 4.744 kg (10lb 6.4 oz) at the Ravindra Kalashetra, Bangalore, India on 30 March 2003.
17.  Longest Ear Hair by Radha Kant Bajpai – 2005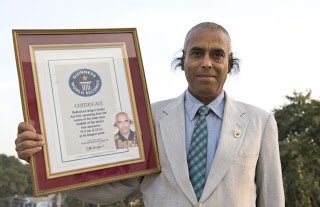 55-year-old Bajpai made his first world record in 2005 for growing the longest ear hair in the world.
18.  One lakh Sahara employees break world record – Largest group to sing national anthem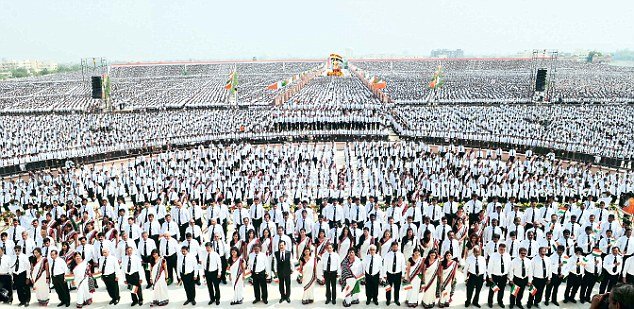 Over one lakh Sahara employees break world record for largest group to sing national anthem during 2013. Sahara India Pariwar created a unique world record after 121,653 of its employees gathered in Lucknow to sing the country's national anthem.
19.   World record for the longest fingernails ever reached on a single hand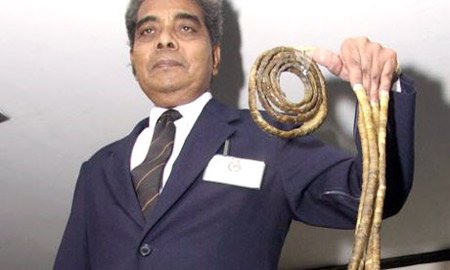 Shridhar Chillal (born 1938) holds the world record for the longest fingernails ever reached on a single hand, measuring 6.15 meters (20 feet 2.25 inches). Chillal's longest nail is 1.30 meters (4.25 feet). He stopped cutting his nails in 1952.
Due to nerve damage caused from the nails' immense weight, Chillal is permanently deaf in the left ear and he finally decided it was time to cut off his nails in late 2000.
20.  Highest Number of Test Match Played– Sachin Tendulkar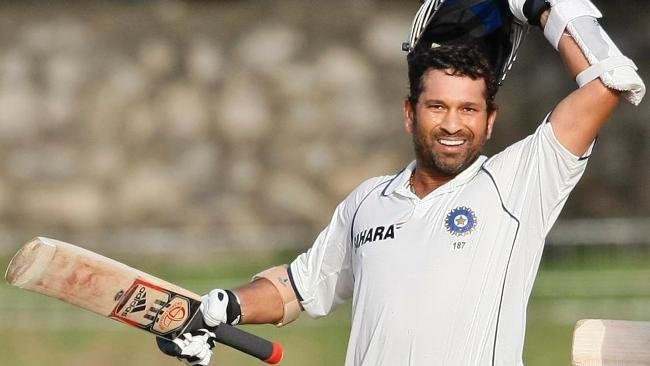 In 2010 Sachin Tendulkar made World Record for Highest Number of Test Match Played (169th Cricket Test Match).